Lynn's Jewelry Studio is the premier custom design house in Ventura County, creating fine jewelry since 1970. We are purveyors of fine diamonds and colored gemstones, as well as signature alloys of precious metals. This means Lynn's can create unique and beautiful designs as original and exciting as the picture in your mind!
For 50 years we have served the entire Ventura County and surrounding areas, from Fillmore to Oxnard, San Luis Obispo to Ojai, as well as Westlake Village, Thousand Oaks, Santa Barbara, and Camarillo. With today's technology, we have created custom, personal jewelry for clients worldwide.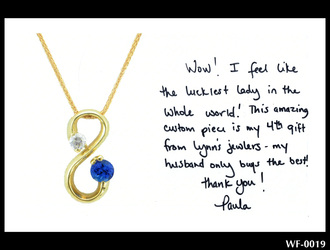 Lynn's Jewelry Studio has always been ahead of the technology curve in the jewelry industry. The new innovations in CAD and 3D printing makes it possible for us to make jewelry that is new and amazing and uniquely yours without breaking your budget. Our creations are designed and manufactured in-house, and just this past season has included unique engagement rings, wedding rings, promise rings, graduation rings, anniversary pendants, Valentine's Day earrings, bracelets, cuff links, and even belt buckles; all special designs for special occasions.